Hello , I've been stuck here for a long time.
I tried to get downlink from gateway to endnode. And i setup my gateway support both B and C , and the other parametes like this : My Setup Tutorial
First , i use ttn-abp of this link Arduino Code . And when i upload for the first time i saw on the Arduino Serial Monitor , i could get some data bytes and exactly is "Received : 17 bytes of Payload" after package queued. But then i tried to config something in my loraappserver on localhost and then i could not get data anymore.
I realized that. If my fPort in phpPayload is null , so i can't get data. But i hadn't known why before i config something in loraappserver my fPort maybe different from 0 as below, i don't remember.
One more, i realized that , when i reactived my device on loraappserver, there are some data is sent to my Arduino , and it's only 16bytes . This is the picture :

And this is information when i received 16bytes downlink data :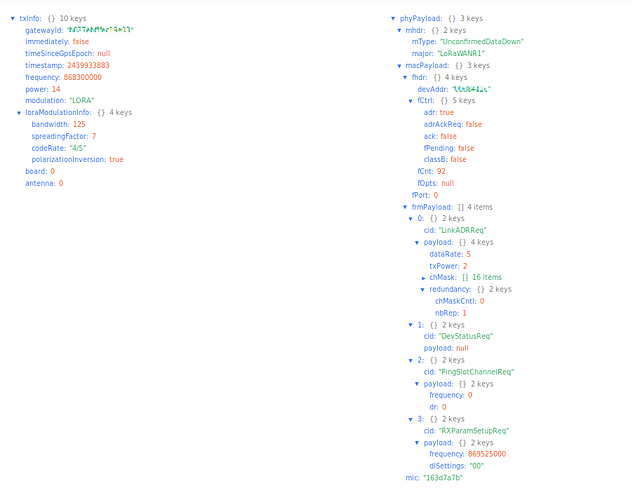 .
When i can not receive data , my fPort is null (sorry i forgot to take a picture)

At the same time i didn't get any data when i tried this command : mosquitto_sub -t "application/3/device/mydevEUI/tx" -v
But i can get some data of gateway and phpPayload with command : mosquitto_sub -t "gateway/device/mygatewayid/tx" -v . The phpPayload is a encode string and i tried to decode with base 64 but i didn't understand what is that
I just can't get downlink data , i still send data to loraserver. Thanks you